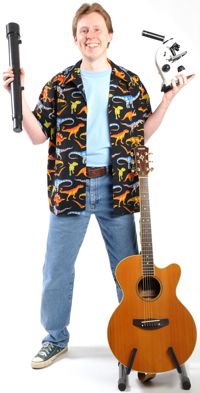 Monty Harper writes and performs award-winning children's songs about science, reading, and creativity. His audiences laugh, clap, sing, wiggle, shout, roar, giggle, jump, hoot, pop, snap, and most of all, think!
Harper began dabbling in songwriting just for fun around 1989, the same year he entered the Master's program in mathematics at Oklahoma State University. He found he had a knack for entertaining neighborhood kids with his songs, and by the time he completed his degree in 1992 he was fielding a slew of requests for appearances at schools and libraries.
Two decades of summer library programs have lent meaning to Harper's work. "It's so important for kids to love reading," says Harper. "I try to convey my own exuberance for books and libraries through the songs." Harper visits 40-50 libraries each year. His ReadingSongs.com website lists several dozen songs he has penned for various reading themes since 1990.
Harper's CDs, Take Me to Your Library, Paws Claws Scales and Tales, Get a Clue, and Let's Get Creative (recorded with kids' rock guru Mr. Billy), were each inspired by past summer reading program themes.
In 2007, Harper brought another life-long interest into his work with the launch of Born to Do Science (www.BornToDoScience.com), a monthly event at the Stillwater Public Library that brings kids into face-to-face conversations with real scientists about their current research. The ongoing program inspired his latest CD, Songs From the Science Frontier. His research-inspired songs power his latest elementary school offering, an interactive multi-media performance about the nature of science.
Harper teaches songwriting through his one-day "Say It in a Song" workshops and extended residencies for elementary schools, funded in part by the Oklahoma Arts Council. The songs he most recently co-wrote with fourth and fifth grade classrooms are available to hear on his website.
Harper has been on the Oklahoma Arts Council Touring Roster since 1995. His songs and recordings have won many honors from groups including Parents' Choice, iParenting, NAPPA, Children's Music Web, Kids Radio Mania, and Unisong International. He has released eight titles on CD, available through CDBaby.com and iTunes Music Store.
Harper resides in Stillwater, Oklahoma, with his wife, Lisa, and their daughter, Evalyn.
Previous events
(CDT, UTC-05) (CDT, UTC-05)
Summer Reading Awards Ceremony (by invitation only)
(CDT, UTC-05) (CDT, UTC-05)
Summer Reading Awards Ceremony (by invitation only)
(CDT, UTC-05) (CDT, UTC-05)