Sing-Along Slumber Party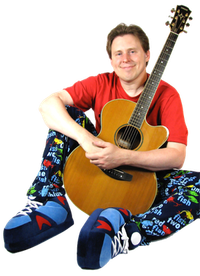 Monty performs original songs that celebrate books, reading, and libraries with a night-time theme.
Monty gets families singing and moving with the music.
Designed for families with kids ages 4-12.
Families are invited to wear PJs and bring blankets and stuffed buddies for a fun slumber party atmosphere.
Perfect entertainment for a literacy night or book fair kick-off.
Program is 45 minutes long.
Monty provides his own sound system and is happy to travel.
Fee starts at $300

Travel is added if further than 90 miles from Stillwater, OK.
PDF version of this page (pdf)
Info for schools presenting this program (.pdf)
Sing-Along Slumber Party Press Kit (.zip)
Includes photos, press release, flyer